Post by GAWAIN on Apr 25, 2020 19:30:00 GMT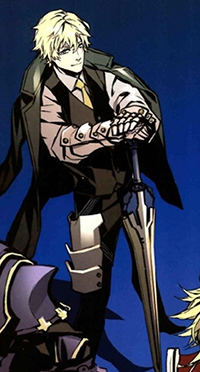 Name:
Gwyar Wledig
Alias
: GAWAIN
Age:
36
Height & Weight
: 180 cm, 79 kg
Faction:
Shin-Ra (SOLDIER 1st Class)
Weapon:
Specially issued Longsword, nicknamed Galatine.
About:
One of the older SOLDIERS still around. A veteran of the war with Wutai, and a member of a unit within Shin-ra's forces called 'The Round Table', a group of 1st and 2nd Class SOLDIERs each operating under aliases based on the members of the legendary summons, the Knights of the Round. Operating as 'GAWAIN', he serves as the second in command to the 'king', and is in charge of the management of operations and logistics, allowing other members such as LANCELOT and their leader, ARTHUR, to handle public relations and the limelight.
His real name, much of his life and actions as well as feats as a SOLDIER are information not available to the public, though a few of them, all aligning with the image Shin-Ra wishes to project to the public, are well known.
As a person, he's an individual with a calm, pleasant attitude and a serious demeanor, along with a tendency to be brutally honest, while remaining polite and courteous in tone. Seeming like a knight brought to modern day, he's extremely loyal to ARTHUR and The Round Table, and by extension, Shin-Ra, and so he'll perform all duties asked of him, even if they were the kind that could be considered...
Monstrous.
Archetype:
Fight 3/ Magic 0
Special Features:
Ability
Ability
Name: Heretic Sword Saint
Description: 'Sword Saint', a rough translation of the word 'Kensei'; a title that originated from Wutai martial artists, bestowed upon those whose mastery of the sword reached the level of myth, and whose moral integrity could stand firm under any and all judgement. 'Heretic'; a word utilized in a derisive manner to refer to one who differs in opinion or manner from an established dogma.

A title forcefully obtained by a hated foreigner leading an invading force; by attaining victory after victory, killing Sword Saint after Sword Saint. Marks one who possesses sublime, mythical-like swordsmanship and no scruples whatsoever.
Limit Break
Name: Heretic Sword Arts: Swordflash
Slot Level: 1
Description: Heretic Sword Arts; Sword techniques forcefully learned from Wutai's swordmasters during duels to the death, and modified & corrupted into their current forms- bolstered to be wielded both with incredible skill and the power of Mako.

The first technique, 'Sword-flash'. A swift, borderline imperceptible stroke from Gawain's blade which leaves in its wake a fine line of mako light. Said light swiftly cleaves into whatever is in the way before detonating into an explosion of mako, taking on whatever elemental affinity is currently affixed to his sword. Despite being strictly speaking a slash, it has considerable range and can be performed on a second's notice- making it suitable for striking down unsuspecting foes. The only tell of what is coming is the faint, blue glow that covers Galatine before the strike.
OOC Alias:
Bread